A new Latvian record was set in the Road Mile race – "DPD mile"
6 May 2023
On Saturday, May 6, – the DPD mile – was run at the Rimi Riga Marathon. With the finish at the Freedom Monument, the winners of the Latvian Championships in the Road Mile distance were announced and awarded, which opened the Rimi Riga Marathon Olympic Kids' Day. A new Latvian record in the one-mile road race was set by Uģis Jocis, a member of the "Latvija in the World" national team. And Līga Velvere remained undefeated in the women's competition.
Over 5,500 people registered for the short Olympic Kids' Day distances, while 2,455 people signed up for the "DPD Mile" distance. The 200-meter and 400-meter Olympic Kids' Day lengths, as well as the Happy Babies track and the reconstructed 60-meter Sprint King and Queen distance, will be held at the foot of the Freedom Monument today until 15.00.
Winner's podium at the Latvian championship "DPD mile"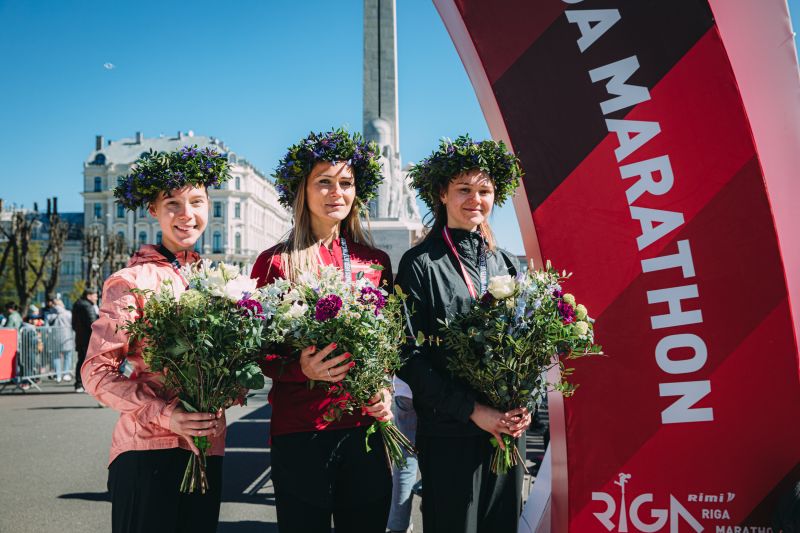 Uģis Jocis, the winner of the "DPD Mile" and also the Latvian champion, ran the mile in 04:15.87, while Līga Velvere won the title of Latvian champion with a result of 04:56.50.
Kristers Kudlis took 2nd place in the "DPD Mile" men's competition, finishing practically side by side with the champion in 04:17.48, while Lauris Lapsa took 3rd place on the podium with a result of 04:20.61.
In the women's competition, second place went to "Latvija in the World" national team runner Evelina Krista Sitnika, who ran a mile with a result of 05:09.61, leaving Daniela Supe in third place with a result of 05:12.01.
It is noteworthy that the mile distance is included in the 2023 World Athletics Road Running Championships in Riga, so all runners who chose to run the mile within the Rimi Riga Marathon had a great opportunity to try the World Championships Road Mile course now!
Aigars Nords
Race Director and Founder of Rimi Riga Marathon
The organizers want to thank everyone who came out to participate in Olympic Kids' Day that was both enthusiastically and actively enjoyed by runners of all abilities, parents, champions, and running lovers.