Rimi Riga Marathon wows to pioneer sustainability initiatives in the Baltics
14 April 2022
As part of the Run for Future by Neste programme, the Rimi Riga Marathon will complete an ambitious sustainability audit for the first time so that it can minimise and offset the carbon footprint of the largest mass sporting event in the Baltics over the coming years. Thanks to Neste, the Rimi Riga Marathon has committed to pioneering sustainability initiatives in Baltic public sporting events by implementing practical and significant new practices in the marathon organisation process, as well as by promoting knowledge of sustainability through education of the running community and the general public.
You may think: what could be greener than the Rimi Riga Marathon? The event is associated with a healthy weekend without cars in the centre of Riga, when everyone is united in the exhilaration of running. But although we are green at heart, the marathon like any other large event has a footprint: we manufacture, design, consume, and although we do our best to collect and recycle it, we do create waste. Thank you to Neste, who has taken charge of ensuring that the Rimi Riga Marathon continues to reduce its footprint. Together, we will calculate how to manufacture and print less, how to make less waste and recycle better, and how to digitise more. We have committed not just to calculating, but also offsetting the carbon footprint left by the Rimi Riga Marathon. This means that, thanks to the support of Neste, we won't be stingy, and will continue investing in even more green and sustainable projects.
Aigars Nords
Race Director of the Rimi Riga Marathon
Over the past ten years, Neste has transformed from a local oil refining business to a global leader in renewable and circular solutions. Simply put, everything we do is in service of one goal: leaving a healthier planet for our children. Supporting the Rimi Riga Marathon in becoming more sustainable is part of these efforts. Together with the organisers and participants of this ambitious event, we will look for ways to make more sustainable choices and reduce its carbon footprint.
Armands Beiziķis
Chairman of the Board at SIA Neste Latvija
The Rimi Riga Marathon has already taken the first steps towards reducing its impact on the environment, having digitised a range of internal and external organisational processes in recent years, as well as by optimising manufacturing and participant consumption choices. For example, printed materials distributed to participants have been reduced to a minimum, registration confirmation for race number pickup is online-only, race bags made of recycled materials are only given to participants who have specifically requested one, and Mangaļi water is handed out during the race in bottles, rather than cups, avoiding additional manufacture, while the bottles are then recycled.
For easy recognition of sustainability initiatives during the event, the Rimi Riga Marathon will introduce a RUN FOR FUTURE by NESTE logo. If you see this logo on official emblems, equipment or other marathon materials, you can be sure that they are part of the marathon's sustainability programme.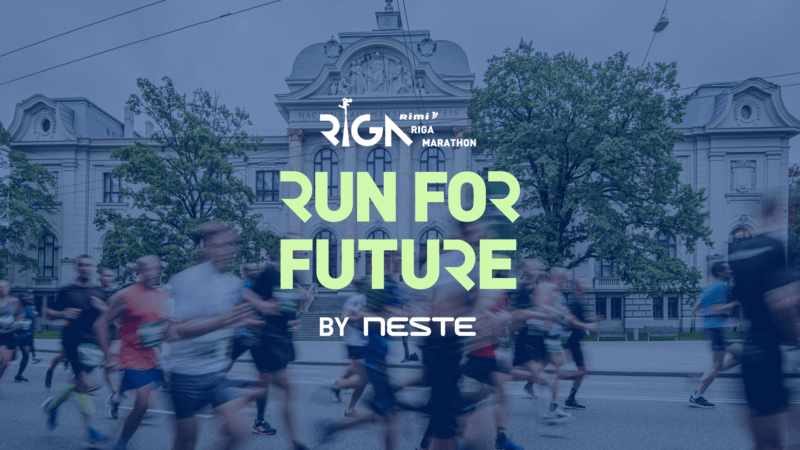 FIVE IMPLEMENTATION PHASES
At the basis of the Run for Future by Neste programme are five phases which Rimi Riga Marathon organisers plan to implement by 2025.
Let's Analyse! is the first audit and analysis phase, which will take place until the end of the 2022 Rimi Riga Marathon. This will allow us to measure the event's carbon footprint in full, and find the environmentally and climate-friendly changes the Rimi Riga Marathon team can make themselves while organising a mass sporting event with thousands of Latvian and international runners, as well as offering options to participants.
Let's Minimise! is the manufacturing and consumption minimisation phase, during which the Rimi Riga Marathon will reduce its less environmentally friendly organisational processes even further, attempting to get rid of anything unnecessary over the next few years.
Let's Educate! is the unrelenting process of explaining, educating and involving people. Organisers are planning a simple, accessible and practical education process. Sustainability processes may seem remote, abstract and theoretical, so organisers will pay particular attention to making sure activities are relevant. Last year, the Rimi Riga Marathon worked with Neste to organise an extensive and exciting range of activities, using virtual races themed around saving the environment to involve and educate participants from 34 countries worldwide as well as Latvia.As a continuation, everyone is invited to take part in plogging up until May 1st. Plogging is an environmentally-friendly sport where participants pick litter while running. You can find out more about the event and register through the Rimi Riga Marathon Virtual Running Club.
Let's Offset! is the carbon footprint offsetting phase, where the Rimi Riga Marathon will become the first public sporting event to financially offset its carbon emissions. Although carbon offsetting is common worldwide, it is still not often used by large events such as sporting and public sporting events. The Rimi Riga Marathon's organisers and Neste will announce the carbon footprint size, offset amount, and the environmental projects or ideas in which the funds will be invested, in summer 2022.
Finally, Let's Commit! is the phase for resolutions. In autumn 2022, we will define the Rimi Riga Marathon's achievable and measurable sustainability goals until 2025. We expect the goals set in the Run for Future by Neste programme to be included in the World Athletics sustainability strategy, and will form the basis of the sustainability programme for the World Running Championships in Riga, a championship for which the Rimi Riga Marathon team won the rights among fierce global competition.