Medals and running shirts designed by Kristians Brekte
25 April 2022
Returning to the traditional May dates for the first time since 2019, this year's Rimi Riga Marathon will offer participants medals and official shirts created by Kristiana Brekte. Almost 15,000 participants will receive the medals after finishing one of the distances on May 14-15, but the official Nike shirts are already available for purchase in the Rimi Riga Marathon online store. Brekte's designed medals and shirts are part of the official design collection of the Rimi Riga Marathon, consisting of internationally recognized Latvian artists every year since 2008.
Brekte is one of the most visible and discussed young generation artists, a nominee for the most prestigious art award in Latvia – "Purvītis Awards", a winner of the public media award "Kilogram of Culture 2021" in the category "Surprise", a lecturer at the Latvian Academy of Arts.
In the official design of the Rimi Riga Marathon, Brekte has included his running associations, drawing memories of running away from our wandering four-legged friends, while the artist intended the finisher's medal as an amulet that protects from evil and darkness, giving strength to a new day and creative power. Medals-amulets will be given to all participants of the Rimi Riga Marathon – the largest in size will be presented to the winners of the marathon distance, but the smallest and sweetest – to the participants of the Kids' Day.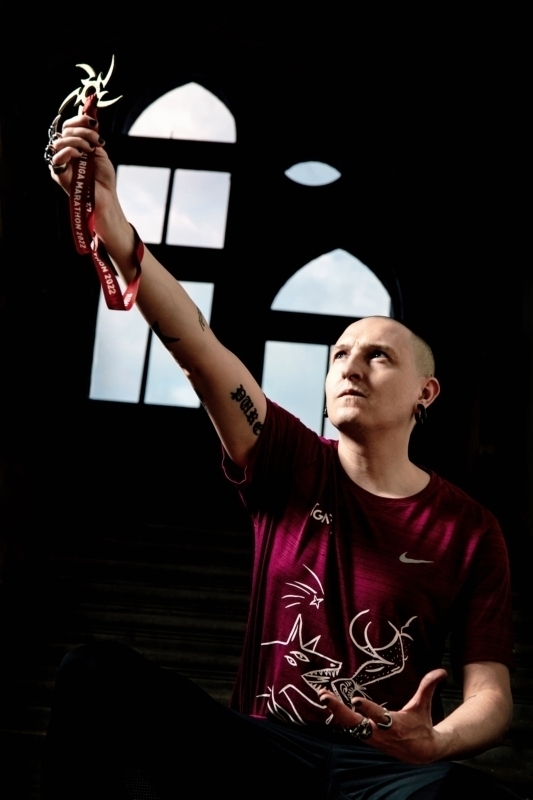 Look fot the official shirt on our online store